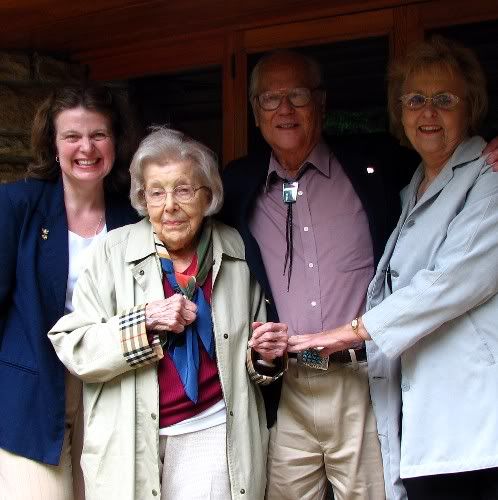 FROM LEFT TO RIGHT: Director Marianne Skvarla, Bernardine Hagan, John Rattenbury, Beverly Gardom
This summer the staff at
Frank Lloyd Wright's House on Kentuck Knob
had the privilege to host a meeting between former Kentuck Knob owner,
Bernardine Hagan
, and former
Wright
Apprentice,
John Rattenbury
.
Pastries, coffee, and tea were served in the living room as staff listened to Mrs. Hagan and Mr. Rattenbury talk of their experiences with Mr. Wright.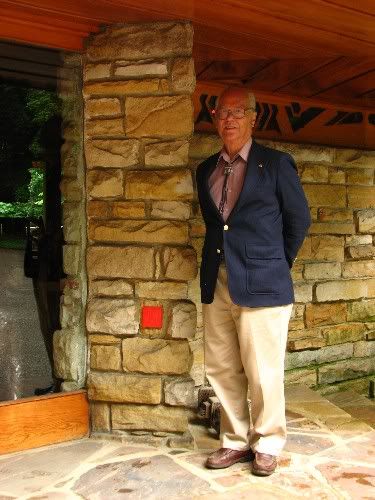 John Rattenbury at Kentuck Knob
One of the room's favorite stories was about ice cream. Mr. and Mrs. Hagan would often send gallons of their
Hagan Ice Cream
to Taliesin as a gift for Mr. Wright and the Apprentices. Mr. Rattenbury specifically remembers as many as fifty Apprentices, including himself, lining up for a scoop. And, who do you suppose was doling out those scoops? Mr. Wright, of course.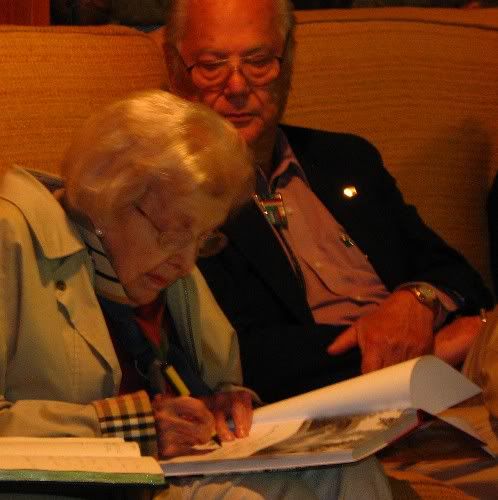 Bernardine Hagan signing her book for John Rattenbury
After the visit, Mr. Rattenbury and Mrs. Hagan signed copies of their books, including one for each other.
Photos by
Jason Jack Miller