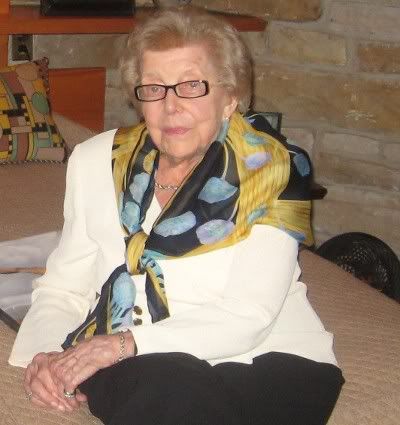 Mrs. Bernardine Hagan
1909 - 2010
Photo by Monica Jackson
We at Frank Lloyd Wright's House on Kentuck Knob can not express our sadness at the loss of such an amazing woman as Mrs. Bernardine Hagan.
She was a matriarch, an artist, a traveler, an author, a gardener, a volunteer, a gourmet cook, a centenarian, and, of course, an inspiration.
Her sharp mind and kind words coupled with her plethora of life experiences made her the consummate conversationalist. Her easy tone and intimate manner come through in the book she wrote a few years ago at the remarkable age of 96.
Within its pages are not only specifics about the house and its architecture, but more importantly her vignettes about working with the great architect Frank Lloyd Wright and entertaining guests like George Nakashima, Edgar Kaufmann, Henry Koerner, Roger Tory Peterson, Bill Storrer, and so many others.
Her most cherished guests, though, were her family and closest friends, and it is for them that we truly covey our deepest condolences. Through them and her wonderful home, she will always be remembered.