An article about
Frank Lloyd Wright's House on Kentuck Knob
is now up on the
Pittsburgh G20 Summit
website under the
Cultural Phenomenon
section:
http://www.g20pittsburghsummit.org/quality-of-life/cultural-phenomenon/house-on-kentuck-knob/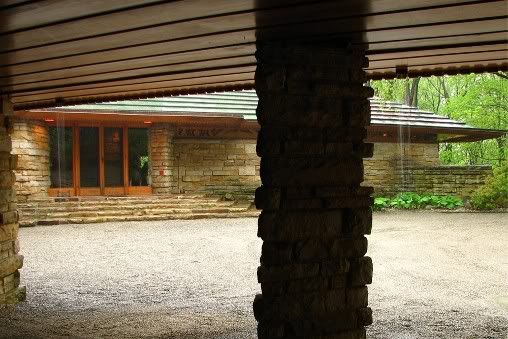 Entrance to Kentuck Knob as seen through the carport
Photo by
Jason Jack Miller
SYNOPSIS
In 1954, Hagan Ice Cream owners I.N. and Bernardine Hagan contacted architect Frank Lloyd Wright via their friend Edgar J. Kauffmann, owner of Kaufmann's Department Stores and the architectural masterpiece Fallingwater. The Hagans wanted a Wright-designed home of their own for 80 acres of timbered farmland on a hilltop which maps referred to as Kentuck Knob, located in the Appalachians. The house, now owned by Lord Peter Palumbo, exemplifies Usonian traits such as horizontal lines and built-in furnishings, while conforming to Mr. Wright's principles of organic architecture through the use of natural materials like Pottsville Sandstone and Tidewater Red Cypress.